* Isn't it beautiful, everyone?

This article contains information that is from a completed AU. All parts of the story have been released and are readable at any time.
Disbelief is an AU created by Tumblr user thezombiedogz and later stolen by the tumblr user disbeliefpapyrus as an idea of a "what if" roleplay, and is now owned by FlamesAtGames.
It was created on October 4th, 2015 on Tumblr. The story, created by disbeliefpapyrus after they stole it, takes place on an alternate genocide timeline in which, instead of Papyrus, Sans is murdered by the human.
Description
In this AU it's applied that Papyrus has the same abilities as Sans. He's shown wearing Sans' hoodie on top of his usual clothes, wielding a bone that surpasses Papyrus' height. He's in a constant state of sadness, which can be noticed by his tears, and rage towards the human. His right eye only glows orange when he enters a battle with the human, as it'll only activate when such terrible feelings exist, and with it he can see everything the human did and intents to do. His eye occasionally flickers between orange and light blue.
During a battle, he can enter in different phases, each one harder than the previous one (except Phase Four).
Phase One
The human's attacks will be blocked. Theme: Interstellar Retribution.
Phase Two
The bone he was wielding will break into two halves. He's able to change the bullet board and replace all ITEMs with Spaghetti, which heals 0 HP. Theme: "Megalo Strike Back".
Phase Three
Papyrus' SOUL begins to resonates as he brings phantoms of Sans and Undyne the Undying into the fight. Theme: Backbone.
Phase Four
Papyrus is still believing in you and begs for you to spare him and have a good ending. Theme: Final Chance.
Gallery
Video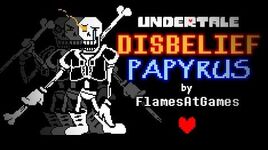 Trivia
Due to the date of the first post on Tumblr, Disbelief could be the first Undertale AU[1]
References