Galaxytale is a au consisting of a single sans. It is made by tarëcat.

=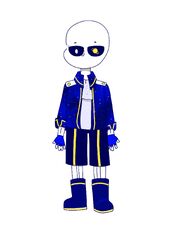 Galaxy sans wears a navy coat and simple pants. His left eye is yellow and will change color according to his state. Yellow:neutral/lonely Red:anger Blue:sadness Purple:desperation

Personality
Galaxy sans unlike his appearance, is very shy but wants to be everyone's friend. He is afraid of small spaces and he hates big noises. If you yell at him for no good reason, he will yell back at you. He has a habit of stopping mid-sentence because usually there's no one there to listen.
Like:chocolate, quiet places, friends, nice people
Hate:loud noises, crowded spaces, people who yell at him for no reason, error sans
Story

One day, galaxy woke up. He looked around and realized that no one was there. He was trapped in a infinite space with only the stars to keep him company. He didn't have any memories of who he was or why he was there. No matter which direction he went, he was always in the same place. He slowly went crazy. Maddened by the nothingness, the silence. When he finally tore his soul out, Ink found him. Ink patched up his soul and became his first friend. Galaxy held onto his sanity. Sometimes someone will fall into the emptiness and be rescued by ink. And he sometimes finds a way out of the emptiness to make a friend.
Will YOU be his friend?