* Ahuhuhu~
* This page needs tidying up, my deary~
* After all, unfortunate things happen to messy places.

To meet the UTAU wiki's quality standards, this article may require cleanup. Please help by

improving

the article.
*

MY MY, THIS IS THE SADDEST DISPLAY I'VE EVER SEEN, DARLING!

* THIS ARTICLE IS NOT UP TO THE
STANDARD AND OUGHT TO BE REVISED TO CONFORM TO THE STANDARDS, DARLING!

Reason: Needs more information.
CG! Swapfell shares qualities with his not CG! Counterpart Swapfell papyrus like smoking and that he is edgy, but not as edgy as swapfell papyrus, as CG! Swapfell in general is less edgy than normal swapfell.  He is the judge in a genocide route in Cg! Swapfell.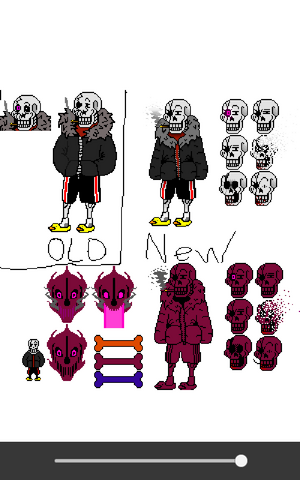 Personality
CG! Swapfell Papyrus is edgy, but not as edgy as the original swapfell papyrus.
He is disrespected by other monsters, except for his brother who supports him.
Papyrus' favorite food is Dijon mustard (I will change it if someone else already has this as a sans esc character.
He hates most monsters for his they treat him but he does nothing about their abuse as he is one of the nicest underfell type character except for CG! Swapfell sans and underfell ruin guardian characters (example: Toriel)
Attacks
He has all of the attacks of undertale sans as well as some unique attacks.
CG! Swapfell Papyrus' phase 1 theme is "unfunny fracture" (not yet composed) his phase 2 theme is "atychiphobia" (not yet composed).